Mabox provides a few pre-installed applications – not too many – by default we won't find an office suite or GIMP editor here. Installing your favorite programs is a task that will definitely be best done by the user himself according to his preferences. (see Software Management). However, several important applications are pre-installed. Below is a brief description and important information for users who want to change the default programs.
---
Internet browser – Firefox
Shortcut: super + w
The default web browser in Mabox is Firefox. You can easily change this by installing Chromium, Brave, Palemoon, Opera or any other browser.
Important!
If you are changing the browser, you must set it as the default browser via Menu -> Settings -> Preferred applications. Thanks to this, you can still start it from the panel or the keyboard shortcut.
---
File manager – PCManFM
Shortcut: super + f
The graphical file manager is PCManFM. Light, simple and effective.
Read more: PcmanFM – file manager
Midnight Commander and simple but very fast fff (rather for advanced users) are available from command line.
---
Terminal emulator – Terminator
Shortcut: super + t
The default terminal emulator in Mabox is Terminator – mainly due to the ability to place multiple terminals on the grid. More about the Terminator:
Terminal Emulator: Terminator
---
Changing preferred applications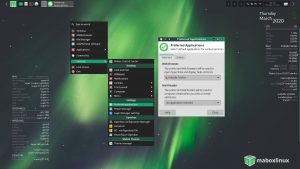 To change the preferred applications, use the small program from XFCE, Menu -> Settings -> Preferred applications.
We can quickly set up:
web browser,
e-mail reader (not set – not available in default Mabox installation)
file manager
terminal emulator